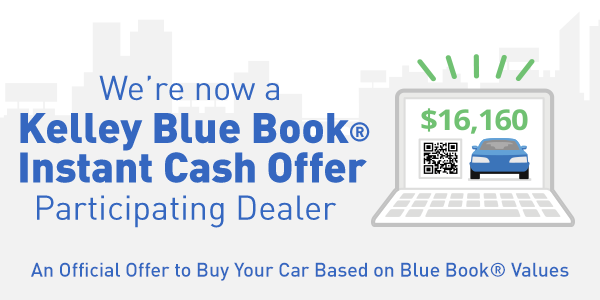 Trading or Selling Your Car Has Never Been Easier
As a brand new Kelley Blue Book® Instant Cash Offer Participating Dealer, we're making it easier than ever to get out of your old car and into a new one! With the easy to follow Instant Cash Offer form, you'll receive an actual cash offer for your car! This offer can be used to sell the vehicle outright, or to trade it in towards your next vehicle purchase.

Get an Instant Cash Offer* for your car today!
How does Instant Cash Offer work?
Tell Us About Your Car.

Tell us your car's specific features and condition.

Get the Instant Cash Offer.

Find out what you can get for your car today. Offers are good for 7 days (not counting Sundays).

Call Auto Express Credit Today.

Let us verify the offer using the same questions you answered at home. Then you can sell it to us or use it as trade-in credit.
*Limitations and terms and conditions apply. For important details, see a Dealer representative or click on the Terms of Service link on KBB.com to see the Instant Cash Offer Program Terms and Conditions.
NOTICE: Some Participating Dealers may not be able to redeem Instant Cash Offers or may be closed because of COVID-19. Please call ahead before visiting the dealer. We appreciate your patience and understanding during this unprecedented time.
Auto Express Credit
850 N STATE ROAD 7, PLANTATION, FL, 33317
(844) 249-4850